When we follow Jesus, we do what the Chicago River did in 1900: we change direction.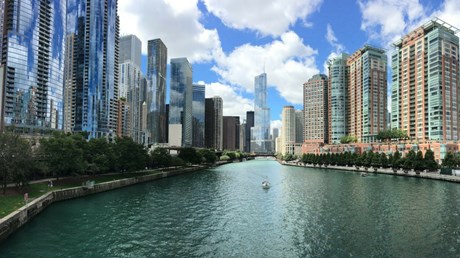 My husband and I live in downtown Chicago. Since I work at Wheaton College, people often ask, "Why don't you live in the suburbs? Isn't it a hassle to commute every day?" And from those who live in another state and only know the city fromknow the city the news, we often hear, "Is it safe to live in Chicago?"
Living in the city was an intentional choice for us. We wanted to rub shoulders with men and women from all different backgrounds who might be open to hearing about God's love and his invitation into a relationship. Plus it's fun! We love the hustle and bustle of the city, the cultural variety of people who live here, and the great activities that happen throughout the year.
As just one example, every year to celebrate St. Patrick's Day, the local Plumbers' Union dyes the Chicago River green. This tradition is more than 50 years old and draws over 400,000 spectators to the banks of our river. Some years are a little more interesting than others. In 2013, we stood by the Wrigley Building and saw a flying leprechaun! Admittedly, most of the people who gather are just there to party, but it's a tradition that we love to attend.
What makes the whole process most amazing to me is where the plumbers put the vegetable-based dye: at the mouth of the river by Lake Michigan. Then the dye flows back through the city, slowly turning the river green. Your see, the Chicago River flows backwards, away from the lake. Until the dye starts to mingle with the water, you don't really see the direction the water is moving. Once that emerald color starts to mix in, you can begin to trace the currents moving west.
This reversed flow is because in the 1800s as the city boomed, …
Continue reading…